EXHIBITION reviews
1970–1975
"David Rose's works all exemplify his virtuosity as a printmaker. They are finely finished, clear-cut screen prints, mostly figurative, but all somewhat abstracted from photographic sources.
"Rose for example enlarges images of Muybridge's turn-of-the-century systematic photographic analyses of walking nudes. He blows the moving image up, freezing it in an expanded, abstracted field of wares and dots. Rose's figures thus become as static, and as clinically isolated, as his more familiar cubist geometries."
– Sunday Telegraph, 1972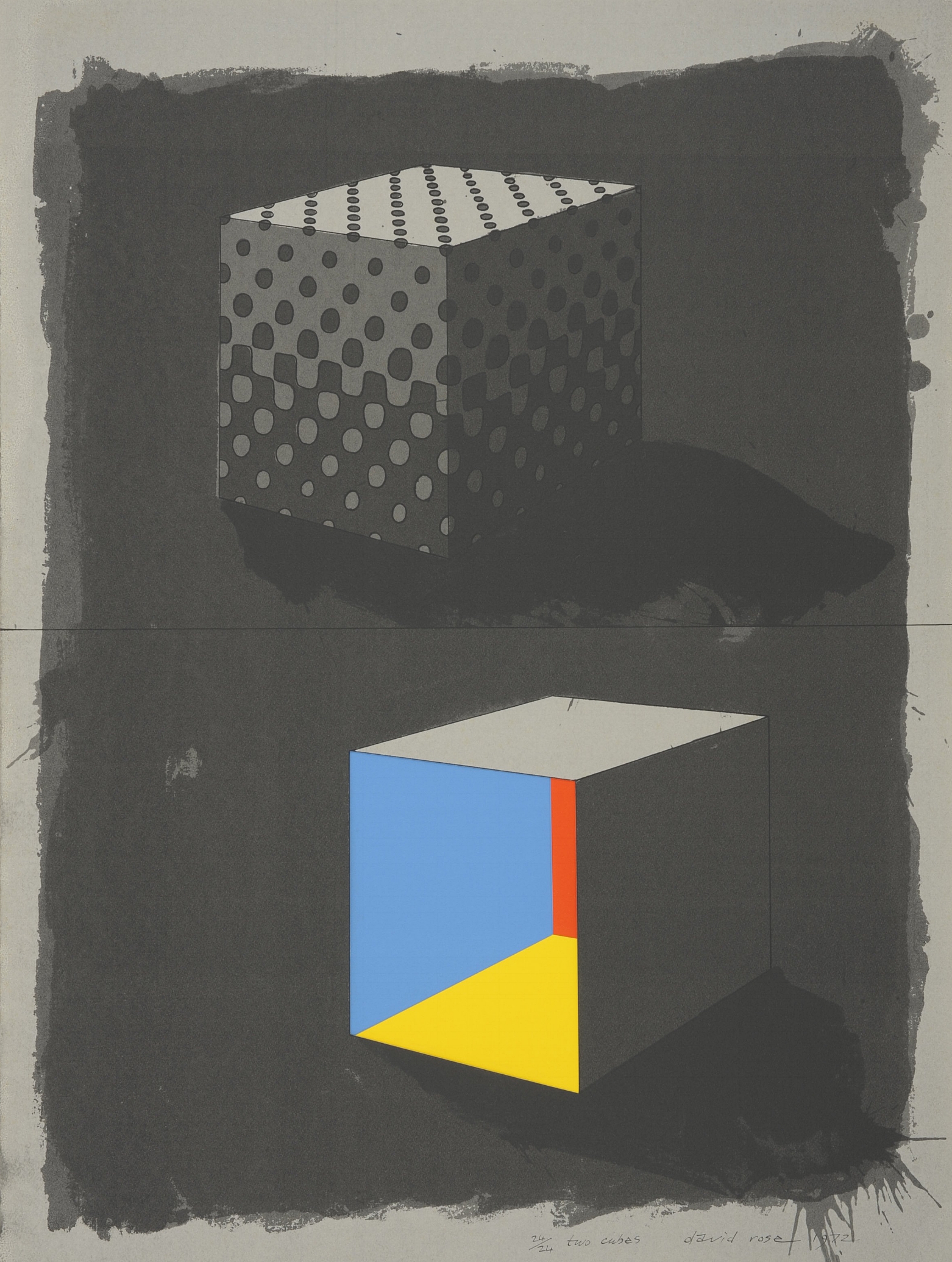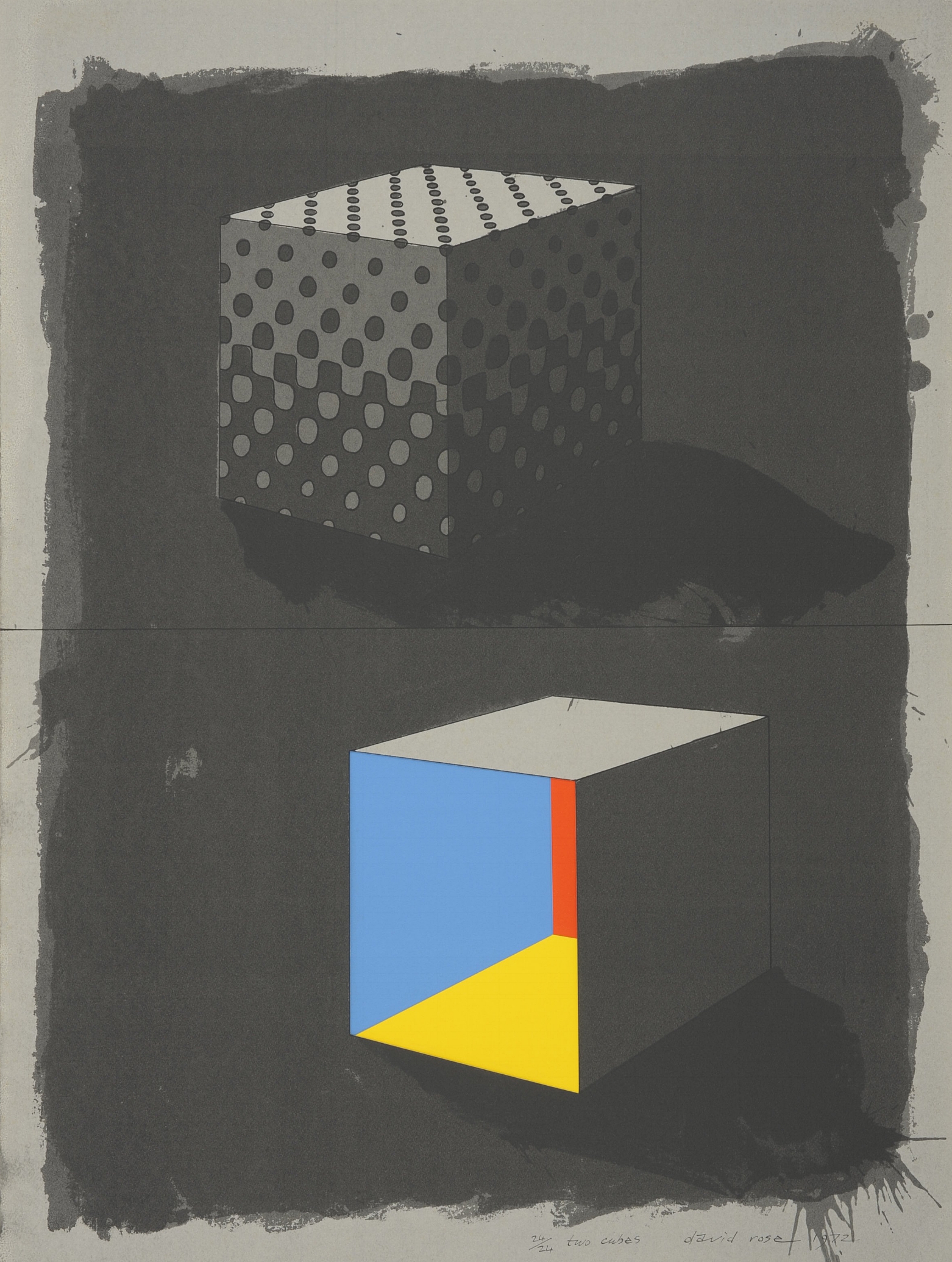 "The Llewellyn Gallery, North Adelaide, is showing an exhibition of prints by David Rose. Born in Melbourne and teaching printmaking at the National Art School, Sydney, David Rose is well known both here and abroad as a fine printmaker.
"He plays some cool and dextrous games with the silk screen in which cubes, nudes and other things participate with immaculate precision. Experimenting with dilated tone-sheen in Figure V he achieves a luminous depth with off-register orange, yellow and purple. Figure II (Miss World) and Half Tone Cube are very nice visual jokes in a local scene generally thin in this respect. Figure I in orange and buff, warps agreeably and gains volume and movement in the doing.
"The impersonal coldness of cubes and triangles cuts away with the surface doorways and spy holes which show a glimpse of their interiors.
"Most noteworthy are Photosynthetic and Radical III, where hard line and dot are delicately persuaded to shimmer with soft distance, or flow in thick, warm rhythm.
"Such gentle taming of rigidity adds sympathy, interest and even a somewhat surreal quality to these beautifully finished prints."
– Dora Chapman, Adelaide Advertiser, 1973
"David Rose is an outstanding printmaker who exploits his wide range of technical facility with aesthetic perfectionism."
– Ivor Francis, Adelaide Advertiser, 1973
"A totally different interpretation of nature is offered at Bonython's by David Rose with a series of variations on the theme Bateau Bay. Most of these beach views are presented as seen through a circular aperture, like a porthole or a binocular lens, as if the artist needed the presence of a geometric sign to prevent the imaginary form from prevailing over the rational.
"Always a guarded artist, in these pictures Rose appears as a tormented equilibrist, balancing on the thin rope stretched between nature and geometry. The impression is that, should he fall, he would not crash on any land but remain floating in an infinite space.
"The whiteness of his sparsely painted canvases is a "tabula rasa", like a playground for a dialectic game between rational activity and the predictable urges of the senses. Neither, Rose makes sure of it, prevails. Geometry remains like a series of parentheses, and nature is given the barest organic shimmering.
"The result is the systematisation of a concept of nature that is less in rapport with the world than with its own self-sufficient structure. Put it in another way, Rose's pictures illustrate the metaphysics of ideas."
– Eneide Mignacca, Nation Review, 1974
"David Rose emphasises the clarity and directness of acrylic and watercolour brushwork in strokes and washes as clean as a woodwind note.
"His variations on the circle motif and Bateau Bay hint of the Chinese engrossment with the ebb and flow of all things – wherein the end of this is the beginning of that."
– W.E. Pigeon, Sunday Telegraph, 1974
"Winner of the watercolour section, David Rose, has exhibited a totally fresh and professional watercolour entitled Bateau Bay. This conceptual work is a variation on a theme used by the artist based on a circle. It possesses a joyful approach and an intrinsic simplicity – a very fine and valuable acquisition for the council."
– Gosford Star, 1974
"HAPPY REVERSAL OF THE NORM It is an unexpected and refreshing reversal of the norm that one of our well known and best printmakers, David Rose, in an exhibition at the Bonython Gallery, is showing a preponderance of paintings, and commendable ones at that. It is a recognised fact that a good printmaker doesn't necessarily make a good painter although the reverse is usually true – the better the painter, the better the printmaker.
"There is, fortunately, always the exception, and David Rose's watercolour paintings, in particular, which it must be pointed out are the same dimensions as his graphics – an important point – are of an equally high standard, without the diminution of quality evidenced in some of his larger paintings. They are sensitive and disciplined works arrived at through a confrontation with the subject, in a return to original sources where the direct method of putting brush to paper or canvas is more applicable to the more detached one of printmaking.
"A further surprise is his departure from a previous hard-line abstract approach to a new found involvement with landscape, in a series of paintings of Bateau Bay. But he enters the landscape field more as an investigator of natural phenomena than as a tribute bearer, observing the pull of celestial bodies, the rise and fall of tides, the sweep of ocean beyond the bay and the curvature of the earth in the ascending arc of sky and horizon, with its vanishing sight lines.
"That several conventional renderings of the scene, painted presumably on the spot, are less satisfactory as paintings, is of secondary importance. On the contrary, one is grateful to find them included. They established his point of reference and bay, beach, sky and coastline are as we expect to find them. In addition, a panoramic view gives the broader geographical picture and Primaries, an abstract painting, indicates his means – primary colours, plus black and white; the circle, that most potent symbol of universality in which form his imagery is eventually resolved; the gestural brush mark and the tensional pull of shapes. In fact, an even more systematic and detailed outline of his investigative procedures would have been welcomed.
"However fascinating, though, the laying bare of an artist's involvement may be, and we should have more of it, judgement finally rests in the outcome which, in Rose's case, brings him into the ambit of traditional Japanese art. This is most apparent in his close observation of nature, especially evident in an almost delicately realised group of flowers and fruit, also included here, and in his search for an image of of landscape in which intellect and emotion exist together in a single unified symbol."
– Nancy Borlase, The Bulletin, June 1974